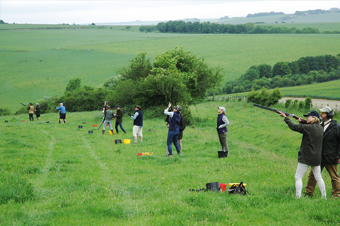 Simulated Game Days
We run simulated game days from April to August which use JCBs with automated traps and the Wiltshire topography to provide a range of varied and challenging drives from partridge, high pheasant, rabbits, pigeons and grouse.
In designing each drive the critical factor was to produce targets that Barney would enjoy shooting.  As a consequence we have produced a simulated day that stimulates game shots who wouldn't think they were keen on shooting clays.
They are popular with corporate events, syndicates enjoying a summer bash, Fathers and Sons & Daughters and game shooters wanting a great day out in the Summer for the fraction of the price of a game day.
The price is £290 per gun ex VAT with unlimited cartridges included, or £225 ex VAT ex cartridges.
Teams are ideally 16 guns, but we would run days with less by agreement.
Open Days for individuals or small groups in 2021 will be held on:
Saturday 17 April  (16 available)
Saturday 15 May  (16 available)
Friday 18 June (16 available) 
Saturday 10 July (16 available) 
Friday 6 August (16 available)
Email to book.